The Rural Boundary – Holding the Line in Seminole County
As most of you know, public outcry in response to River Cross developer Chris Dorworth's unending petitions for building exceptions to Seminole County's voter-established Rural Boundary have been loud and unequivocal. Citizens and local advocacy group Save Rural Seminole made no secret of their opposition to Dorworth's request for large-scale, high-density housing and commercial space on rural lands, and they vowed to make Commissioners pay at the ballot box if they ignored residents' concerns.
In July 2018, the Seminole County Zoning & Planning Board unanimously rejected the River Cross proposal, deeming it "way too dense for this area", followed by a unanimous vote by County Commissioners to reject River Cross in August 2018. In January 2020, Commissioners voted down "the swap", a proposal to exchange rural River Cross land for development in the Econ River Wilderness area, an environmentally-sensitive parcel of recreational land along the River.
Why after repeated rejections is River Cross lurching on like a zombie, haunting residents? The answer leads back to the GOP-led Florida Legislature and current District 28 Rep. Republican David A. Smith.
In the final days of the 2020 legislative session, Smith voted for the ironically named "Growth Management" bill (SB 410), which according to the Orlando Sentinel, "undermines Seminole County's longstanding, voter-approved prohibition against invasive development". The bill allows cities to approve big developments like River Cross if they are within city limits, even if the decision violates the county charter. Get your property annexed into a city and the county is powerless.
After Smith's developer-friendly "YES" vote led to more public outcry, he recanted saying he didn't know the bill would gut rural protections. Either Smith is not being completely honest with voters or he was not paying attention – either way, that is not the stewardship citizens deserve.
Smith also voted "YES" on developer-friendly House Bill 7103, which environmentalists say will stifle challenges against developers violating local comprehensive plans. Passed on the last day of the 2019 Legislative Session, in hopes it would fly under the radar, the bill requires those who lose development disputes to pay the legal fees of both parties.
The effect is to disadvantage citizens and local groups in challenging deep-pocketed developers and local governments. It could stop groups in Seminole from suing to ensure enforcement of the rural boundary and protected lands.
In the last few days leading up to the 2020 session, Rep. David A. Smith also accepted a $1,000 maximum campaign donation from developer Chris Dorworth for Smith's re-election campaign. Voters sent Rep. Smith to Tallahassee to represent them, but it appears he is representing developers' interests instead. 
We need representation that will make voters' voices heard in Tallahassee. That is why I'm asking for your support in the August 18th primary and again on November 3rd.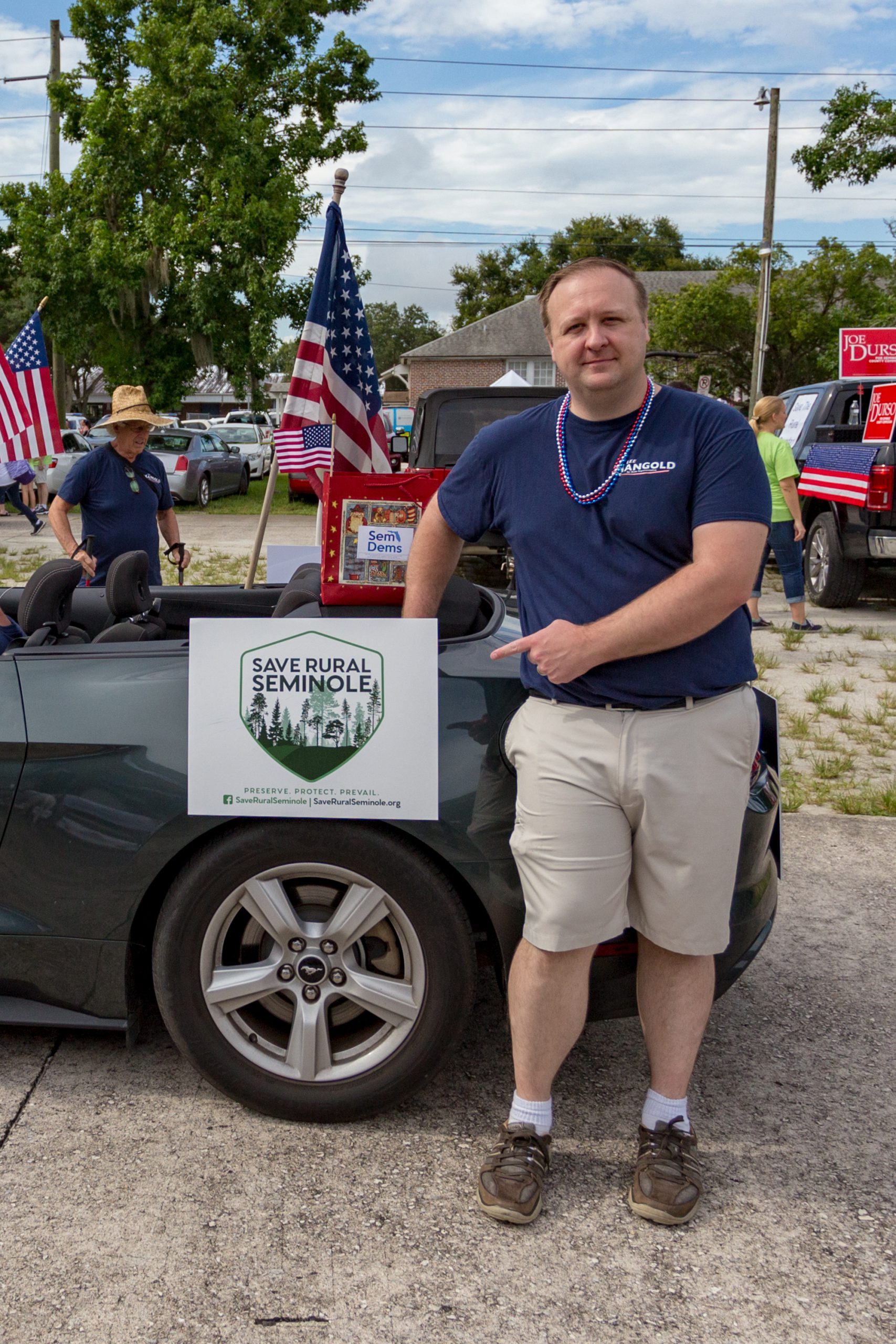 Lee at the Geneva 4th of July Parade
Lee (pictured here) along with his campaign team and a large group of volunteers attended the Geneva 4th of July Parade in 2018.